This June Octane took on branding the 10th annual Wild Hearts Fun Superhero 10K, 5K & Super Sprint in its fan chosen superhero theme, the Black Panther. We fully understood the assignment and through branding and storytelling brought the community elements of Wakanda to the CHD tribe!
The Client
Kerrington's Heart is one of Kentucky's longest standing nonprofits to provide support financially and emotionally for childs and families affected by congenital heart disease in the Bluegrass. From fuel cards for long hospital drives to hosting private CHD events for Kentucky families, the organization provides educational resources and experiences with 'a sense of normalcy' for CHD kids and their families that they couldn't have otherwise experienced due to the medical fragility of their heart condition.
This being their largest public fundraiser, the wild hearts fun run mainly helps fund a large portion of the organization outreach they do. Why superheroes? With 1 in 100 born daily and sadly more than half do not live to see their first birthday, kids with congenital heart disease are real superheroes. Kerrington's Hearts strives to celebrate them all every day.
The Event
This year the Wild Hearts Fun Run event includes a virtual run, 10K and 5K race course, a children's 500 yard dash and a honorary CHD run (less than 500 yards) specifically for kids onsite with congenital heart disease (CHD). 
The event is located on the historic grounds of Keeneland Horsetrack where its been consistently held for over 8 years.

Discovery Phase
After strategy session with the Race Committee they decided to let their 5,000+ social media fan following decide the next race theme based on suggested ideas from the race committee.
Previous superhero themes included: Justice League, Captain America, Superman, Spiderman, Thor, Hulk, Captain Marvel and Ironman. 
After polling social media, the results revealed Black Panther as the chosen choice! So Octane went to work on breaking down elements from Black Panther and finding areas that it aligned with the CHD community.
Our Notes:
Tribal Drums in promos – call to arms for tribes to unite
Using Tribes vs Teams to welcome race teams
Meme "Tell Them Who You Are" – Queen Mother, Sharing CHD Stories 
Heart Shaped Herb is a Flower and symbolism for reaching the Ancestral Plane, also resembles a glowing calla lily — use to highlight CHD Angels OR talk about CHD awareness
Reference to many tribes to represent CHD families and awareness of CHD culture — beat the drum
Story of T'Challa unites the strength of all CHD kids
Story of T'Chaka showcases Strong Fathers
Story of Romonda showcases Strong Mothers
Story of Shiri showccases the strength of siblings 
Symbolism of the Black Panther necklace — not all heroes wear capes
Vibrainium — the special mineral that both powers Wakanda, protects their people and heals them can be symbolic to the Hospitals, Doctors and Nurses that help CHD kids
Kimono Beads – Growth of Technology, share how Technology has advanced CHD research… how much is still left to go. 
The symbolism of the Panther – Black panther symbolism is linked to grace, protection, beauty, night, magic, inner power, and even the secrets of life and death.
Colors: Platinum, Purple, Onyx
T-shirt Ideas: wakanda salute, T'challa necklace, panther face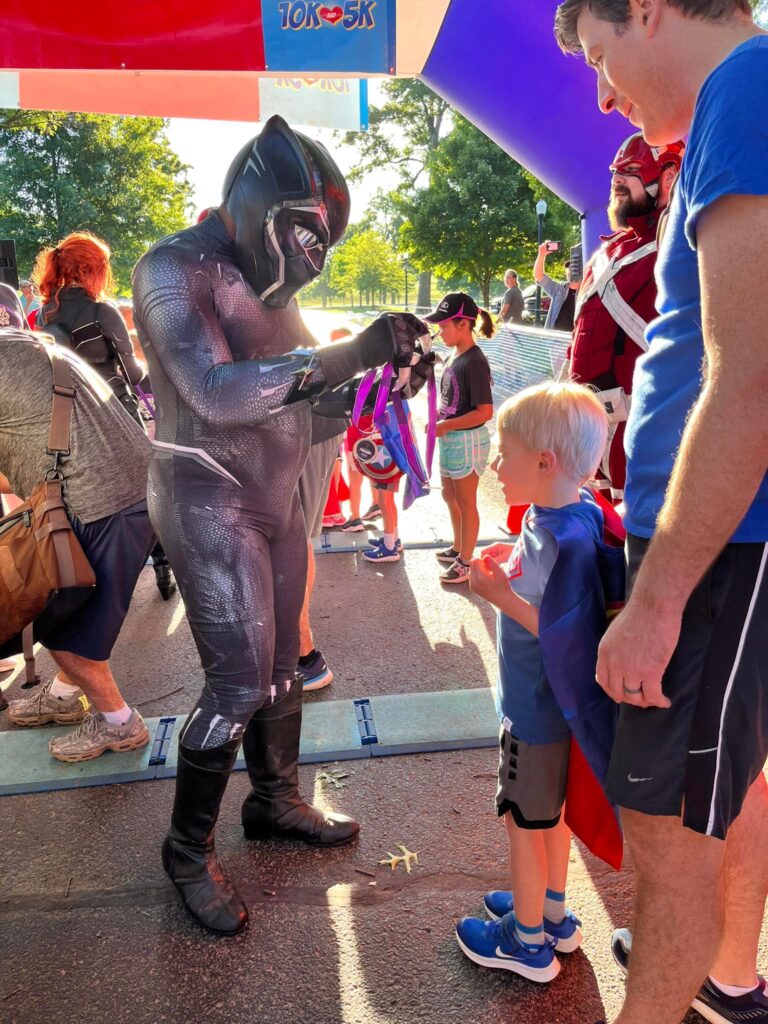 Branding Process
Originally we wanted to use only certain aspects of Wakanda style elements for branding this event while preserving and respecting its original African and worldly culture.

For those that were completely unaware of the Black Panther storyline we chose to do a character breakdown on key characters via social media with various quotes relevant to the CHD community between publishing existing race photography over the past 10 years.
Over the years race teams are announced across socials as they are formed. The "tribe" element was proposed to replace using the word "team" and the race committee agreed to announce teams in that likeness.
In deeper parallels we were able to draw similar storylines between the late Black Panther actor Chadwick Boseman and his long and secretive battle with colon cancer to the silent struggle many children and their families face living with Congenital Heart Disease.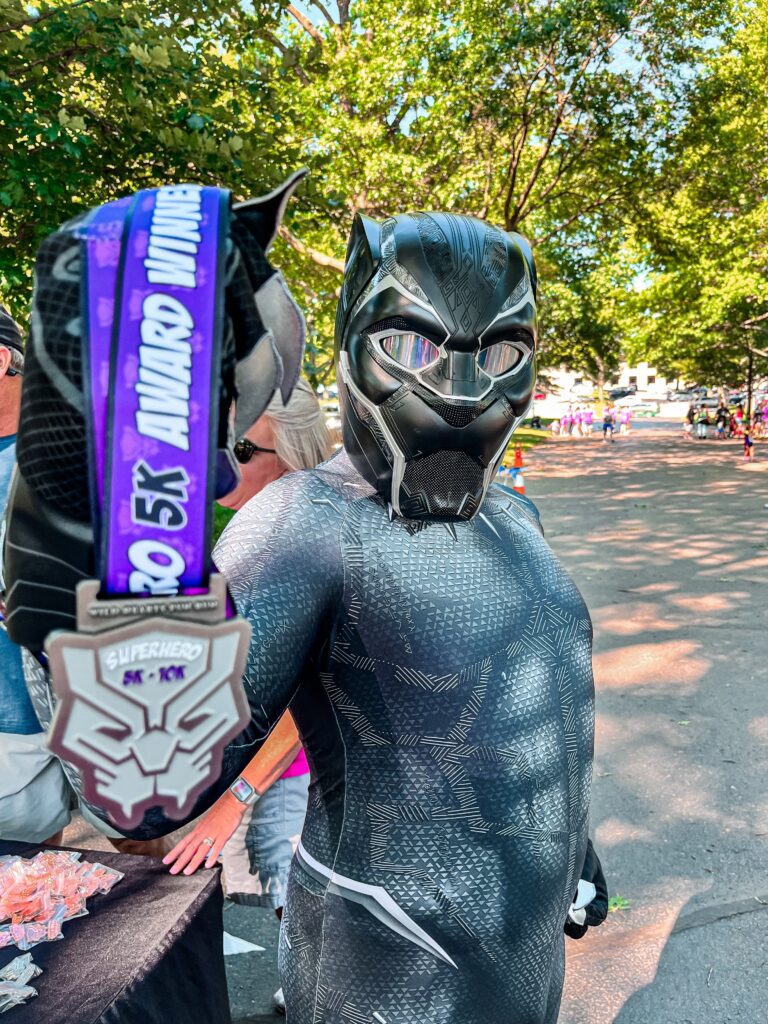 We had multiple ideas for shirts and medals but eventually went toward the geometrical panther face and outline. Unique to medals this year were the creation of enamel pins for each age category winner ranging from gold to bronze. To commemorate its 10th year the race committee began a collectors addition of pins for each race beginning with the Black Panther theme.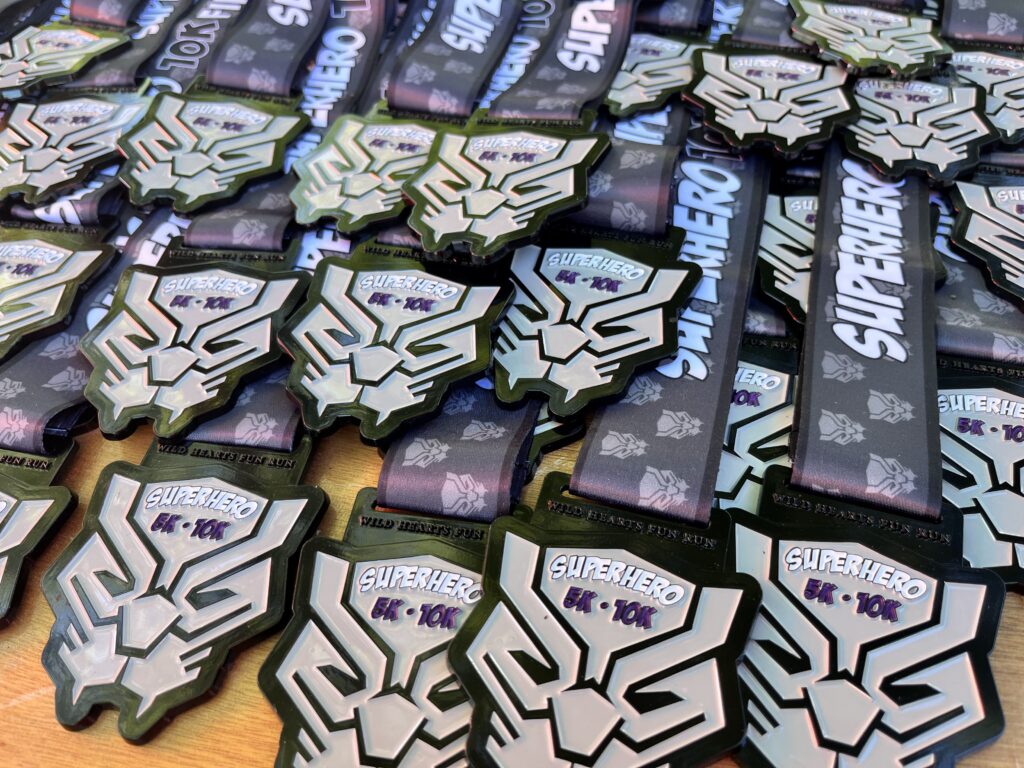 Signage
Along with signage for each mile marker and CHD facts placed along the race routes, this year we designed special signage of the race ambassador's story chosen specifically from the race committee. Also new to this years race was the use of the VIP Tent for top fundraisers and largest teams.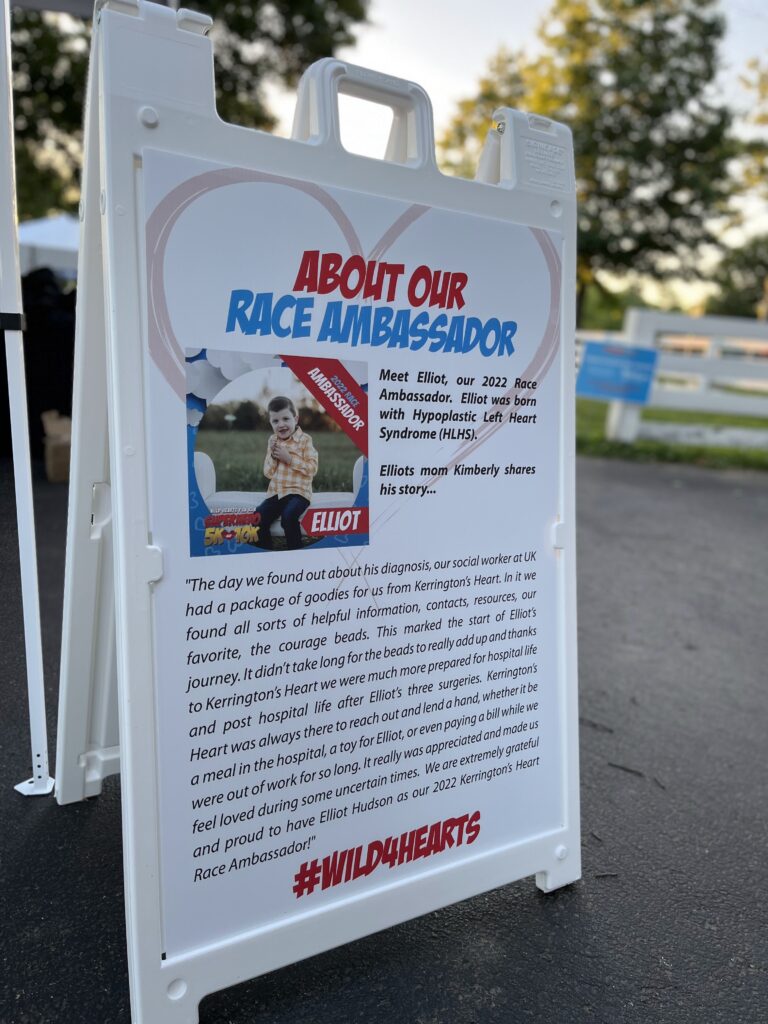 Wrap Up
Octane enjoyed making this event memorable for attendees! We look forward to future events we can create signature branding for. Interested in using Octane for your event? Book a consultation today.