Holy smokes! 164 posts and over 3.5k likes later…. where did the year go?! If you're like us we needed a good old reminder of our top posts of the year. Using our Top Nine Instagram Moments we're taking you back…. All the way back counting down top posts and projects that put a twinkle in our eyes.
---
#9: #Friday Introductions
To be honest, Octane founder Danielle Meadows-Stinnett tries to do less pictures of herself as much as possible. This has proven to not be as effective toward the brand because over time more people wanted to know the face behind the name. Thus the timely shares of #FridayIntroductions commenced.
This one in particular discusses the valid truth of upward alignment.
---
#8: Speaking Events
We got to speak at multiple events this year that allowed more exposure of our brand than ever before.
Events like:
UK Women & Gender Studies Conference
Lexington's Minority Business Expo
Women In Business Conference & Expo
Urban League's LIFT Youth Conference
Dixie Elementary School Career Day
---
#7: #TrueStories
In and around Octane are real stories and experiences that make us think and inspire us to do/be better. Octane Founder Danielle Meadows-Stinnett does this occasionally on the feed and it resonates with everyone.
---
#6: Milestones
Our biggest milestone of the year was celebrating 10 years in business this October. To celebrate with the entire community we held weekly giveaways the entire month of October.
This was our way of saying thanks for always being in our corner, using our services and creating authentic community.
---
#5: Collaborations
2019 was our year to branch out! We've had multiple opportunities this year to work with growing groups and organizations like Be That Person Inc. and Kentucky Bloggers and more.
One that stood out as most influential this year was our collaboration with Kentucky Bloggers End of the Year Bash and Awards.
---
#4: Community
We're not going to lie. We've got the BEST kind of community. Octane's summer internship was a beautiful example of that.
From artists like Justin Stewart and Lafe Taylor to entrepreneurs like Jarvis Terrell and the NoLi Creatives District, our interns got both practical skills and professional experience to pursue there dreams in the graphic design industry.
Months later we were asked to take part in a different type of community. A community that represents and celebrates Black creatives. We were honored to be invited to partake in this collective group photoshoot.
---
#3: Amplifying Our Voice
Metaphorically and physically we stepped our game up, pursuing storytelling in a new way with our first ever podcast: MTG: More Than Graphics Podcast in 2019. Alongside amazing co-hosts Brittany Robinson and Cicely Carter we made BIG headway into a journey of life chronicling and truth storytelling for women in both tech and creative industries.
We learned so much from this experience in featuring guests a part of the show each month on a themed topic. It worth every minute of investment. We're so excited for what lies ahead for this space in 2020!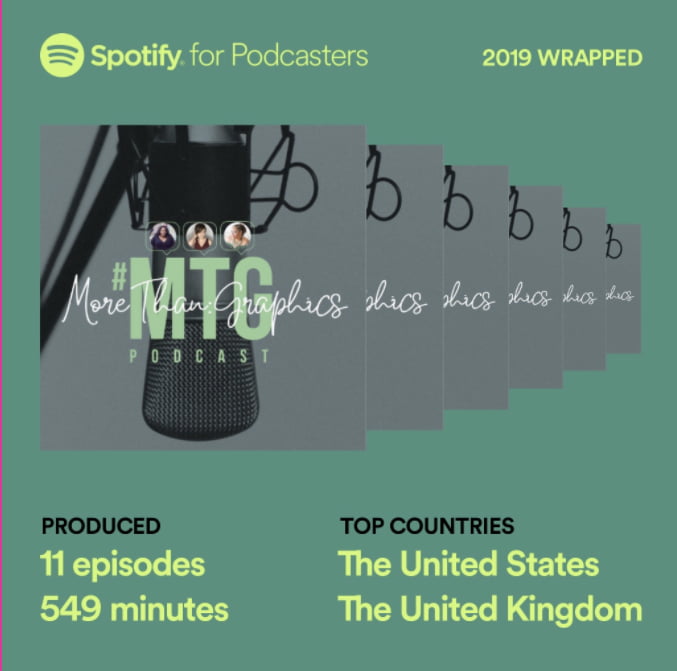 ---
#2: Experiences
Just to name a few:
TV Show Daytime Appearances
Youth Speaking Engagements
Podcast Producing & Co-hosting
Facebook Page Reached over 1K followers
YouTube Channel over 8.5K impressions and over 5K reach
Servicing new places: Great Britain, Puerto Rico and Germany
---
#1: Sharing What we Know
How fitting that our top post was a something we posted at the very beginning of the new year. When we say: we want you to win, we're not kidding!
In 2020 we'll be offering more of these specific tools in our facebook group.
---
Wrap Up
What will Octane do next in 2020? Only time … and Instagram will tell. But you can bet its got the entrepreneurial spirit at heart. See you in 2020!
We want to hear your fave Octane moments! Leave a FB or IG comment or tag us in your comments or pics on social media.