Event Recap: 2018 Wild Hearts Fun Run Superhero 5K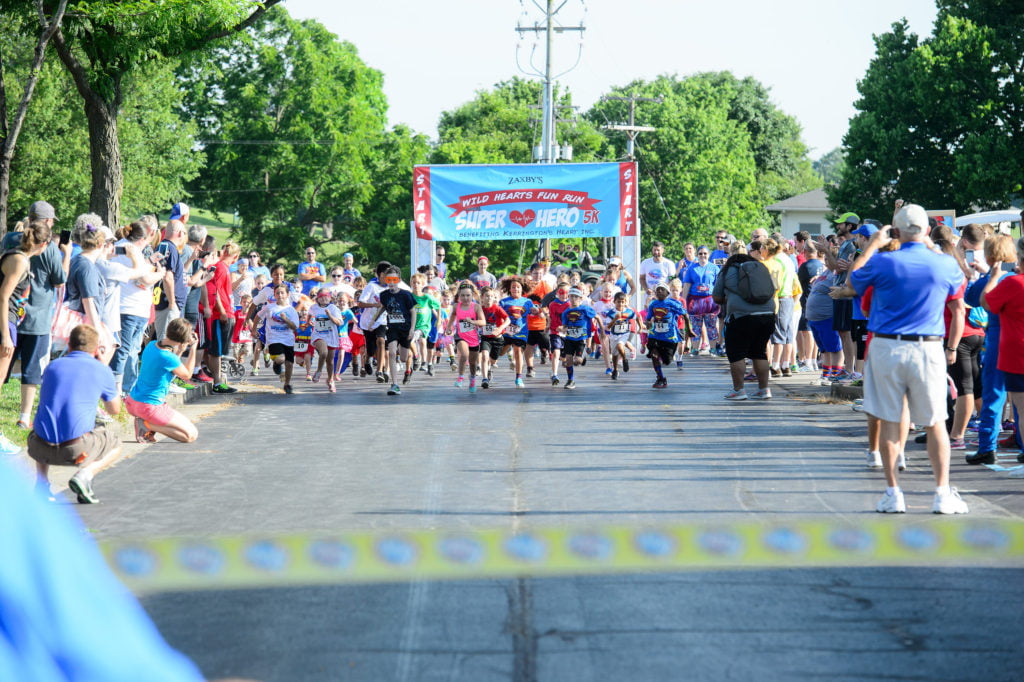 Octane was super excited to be a part of this years Wild Hearts Fun Run Superhero 5K benefiting Kerringtons Heart Inc at Keeneland this year, sponsored by UK Healthcare and Cincinnati's Children's Hospital.
With over 600+ 5K participants and over 75 Super Sprinters this event was filled with superhuman abilities! The biggest part was fundraising $12,000 for children with congenital heart defects in Kentucky.
From caped crusaders to legendary heart heroes, let's recap!
---
EVENT LOGO & BRANDING
Octane has designed this special event for Kerrington's Heart since its conception in 2015. The organization chose a superhero theme because they believe that kids fighting and living with congenital heart defects are real life superheroes (and they are)!
For Octane this means pulling elements of comic book flair which was fun and challenging. Each year a different type of superhero was selected which means whole new color schemes and new artwork was created.  The traditional logo for the event focuses on a traditional comic pop art with a beating heart in the center.
This year theme: The Incredible Hulk featured in the recent Marvel Infinity Wars Pt. 1!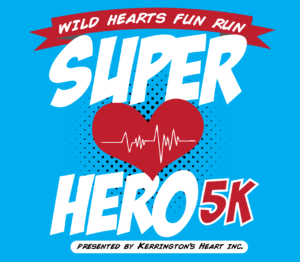 MARKETING
Before we settled on the Hulk we were still playing around with the latest Marvel film Infinity War Pt. 1 and wanted to incorporate that feel in the initial teasers of the event. Phase 1 began with the FB cover and phase 2 with the theme and updated website followed. New this year was our first ever 5K Photo Filter created for participants Facebook stories!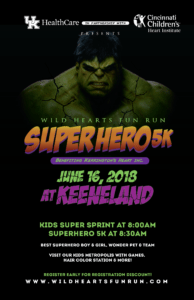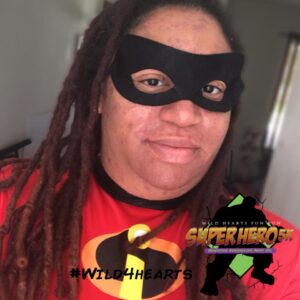 VENUE
Its first event held at the former commonwealth stadium brought a few hundred people together to support kids and families in Central Kentucky affected by Congenital Heart Defects. As the event grew we found that Keeneland was a better location logistically for both our families and our sponsors.
This year the crowd was OUT! We loved how the barns helped breakup the various activities and sections of the race (Registration, Kids Metropolis, Awards Stage). And the course is absolutely beautiful! THIS is Keeneland!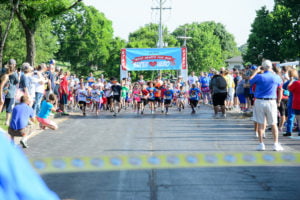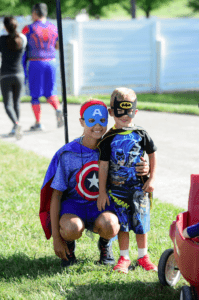 SIGNAGE, T-SHIRTS & AWARDS
This years theme was all about "Hulk Smash!" With that in mind we wanted all the awards to reflect the epic heroism of the Incredible Hulk.
All the awards of Best Superhero Boy and Girl were given hulk mugs with the event decal.
Earlier in the design process of the event, the race committee liked the idea of the rips and cracks of the hulk coming from his center, similar in mark to the hundreds of CHD kids and adults that have the iconic heart surgery scar across their chest, many enduring heart surgery within days after being born. The medals and t-shirts followed this design pattern with the iconic silhouette of the mean green machine.
All event sponsors were given autographed event posters from the Kerrington's Heart Board of Directors as special thanks for supporting CHD families in Kentucky.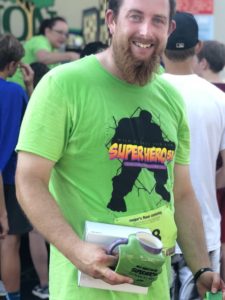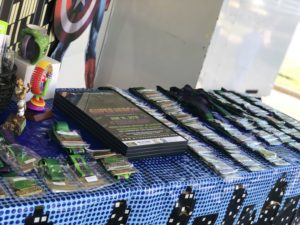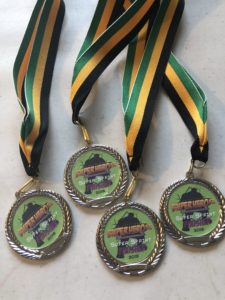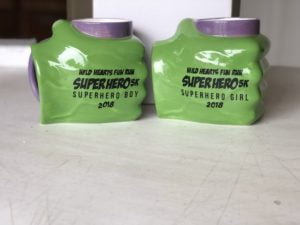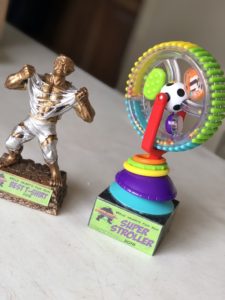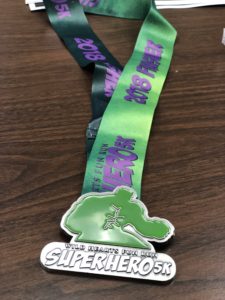 ---
VENDORS
T-shirts Printing: 10th Planet
Medals: Always Advancing Medals
Printing & Signage: PrintLex
Event Design: Race Director Britney Howard & Committee
Venue: Keeneland
Event Photography: Adam Padgett Photography
Event Branding, Graphics & Social Media: Octane Design Studios
OCTANE is an 12 year old, Black and Woman-Owned digital marketing & branding firm based in the heart of Kentucky.
We've helped brand and launch over 100 local businesses across America; ⅔ in Kentucky.
Over 60% of our clients are women or BIPOC owned businesses.