And We're Off! DYI Derby Day Bridal & After Party Inspo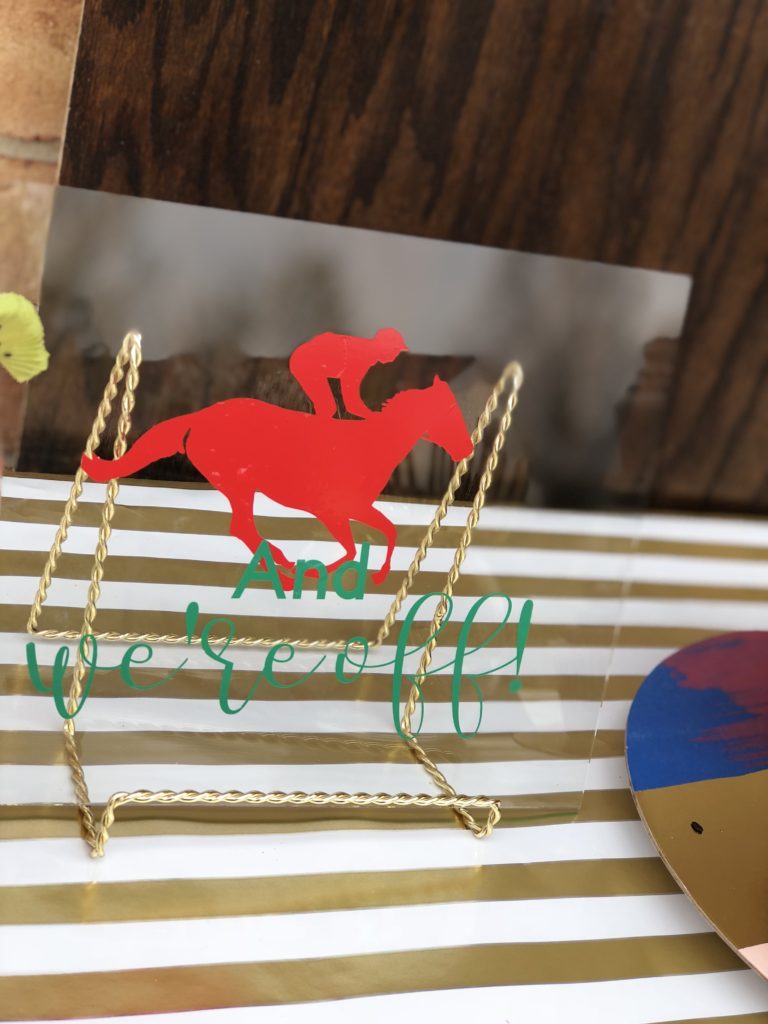 In my Russell Crowe voice; are you not entertained?!? (I seriously love that movie though!)
The Kentucky Derby (+ Cinco De Mayo) is right around the corner and I decided to break from my routine to create my own quick entertainment for the fastest 2 minutes in sports.
By 'quick' I mean single handedly designed, produced and photoshot.  Whaaaaaa?
Here's to juleps and Woodford on the porch, dreams of Millionaire Row and ALL the roses this side of the Mississippi!
Let's get it started
So I initially got my wheels a turnin' from this concept of a simple black, white and gold palette inspired by Rodin Designs.  I love the sophisticated look of the color combo but also wanted it to be a little lighter for the Derby theme I envisioned.
My initial thoughts were: Invites & welcome sign, party table & reception table.
https://www.instagram.com/p/BhJ5lPblaAX/
Because I had a lot of items already in stock in my office/ craft room, my shopping list was literally:
2×4 ft pine pre-cut board from Lowe's
wood stain, Miniwax from Lowe's
black and white table cloth
golden utensils
gold foil cardstock
goblets
fresh greenery from Trader Joe's
And then, I got stuck. Drats.
After not finding some specific items, I wasn't sure if I could pull off the ideal look I wanted. Luckily I had just recently finished a quick Facetime Call with my fellow crafter, woodworker and cousin Jacqueline Rowan of JRow Everything whom I immediately called back for some quick designer advice.
After some camera flips and some frozen unintended video selfies (aka frozen camera), she totally refocused my vision with some quick fixes (switching out tablecloths for foil paper rolls and other simple things my brain was farting on) and I was rearing to go! I used one half day to stain wood and design the simple pieces and the next day to design the rest and assemble and start snapping some progress shots. I shared a few on my instagram.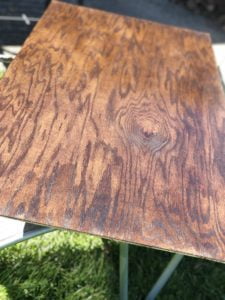 They'll tell the story of tonight
Day Two was all about assembling the small stuff early. By early, I mean by 2:30pm before I completely switched gears to embrace a completely different profession; motherhood of 3.
I used my beloved Cricut Explore Air 2 to cutout all the pretty horses with gold foil cardstock from Michael's and attached them to my straws for the glasses. Then continued to cutting out my removable vinyl for my wedding sign.
As I rushed to pick up my troop from the bus stop I remembered the horseshoe piece that was my intended focal point for all the smaller pieces. I decided to use that on the two color menus and the initial invitation for ALL the southern charm!  I decided to roll with a sister font for the table tent cards at each setting, each with a fun derby themed phrase.
My personal fave, "I'm betting on you" and "You're in my winner's circle".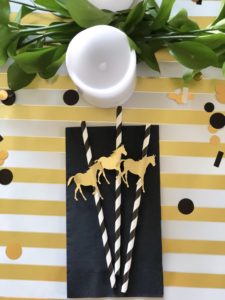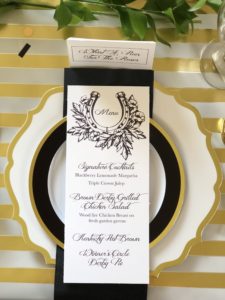 Horseshoes, check.
Horses, check.
Bright & Sophisticated, check check.
Onward to the invitation suite.
To be honest I went through this process all wrong because it was the LAST piece I designed! Typically with a client the event logo is what I would complete before anything else but I felt confident about the use of the horseshoe. I wasn't just any other client so that was my rationale going into this; cheeky I know.
My original idea was gold foil roses across the top but I decided to rock the simplicity of the horseshoe. I've noticed the trend of watercolor and foil & used that on this bridal suite. The gold foil Louisville skyline and cascading roses looks so beautiful with the red watercolor brush stroke. The picture doesn't do it justice!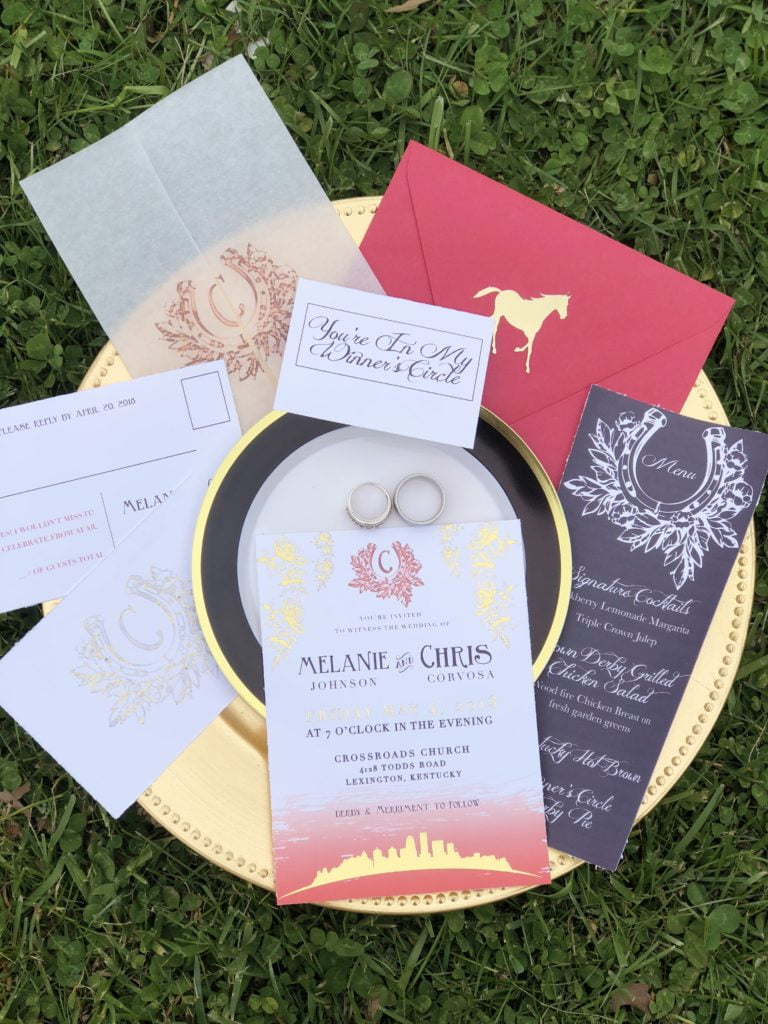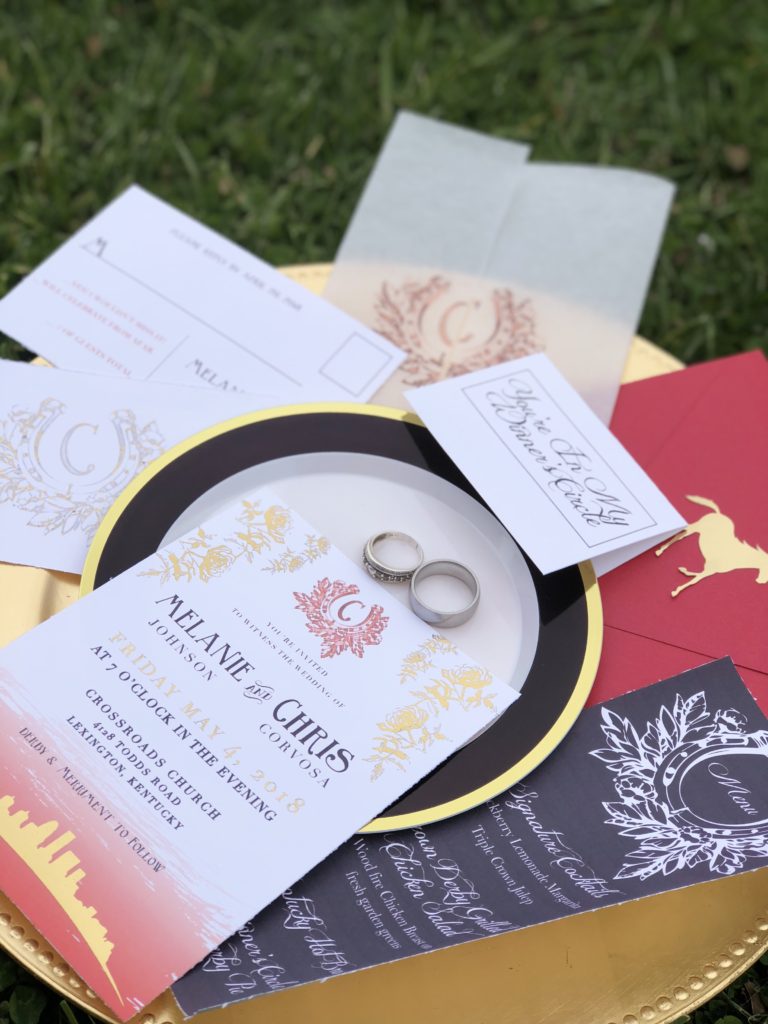 Back Back, Forth & Forth
So finally on the second day I assembled the reception table.
When you're styling things you're moving things around, inch by inch, sometimes even, breath by breath for just the photo. I was already between other business deadlines that day yet still I was determined to complete something for ME. Thankful that had Jacqueline on Facetime from North Carolina for on call "professional accountability & support". Hence these pretty photos!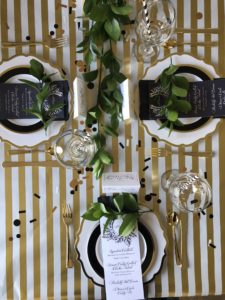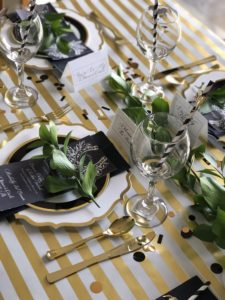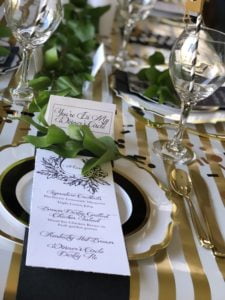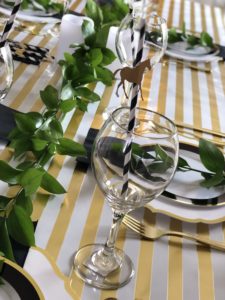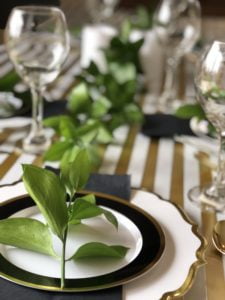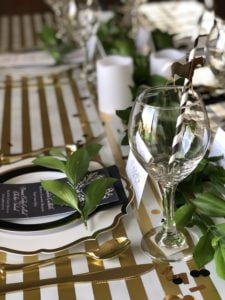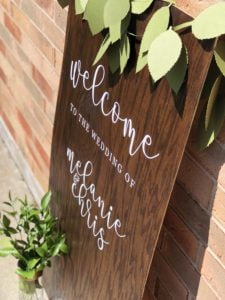 This is how we do it; DIY
Day Three is party day! I invited my mum and the kids for some fun upcoming derby day fun! First how about these cute signs? I was able to use some blank clear acrylic pieces I already had to make some simple vinyl based table signage (And We're Off & All The Fixin's)  and I think it turned out wonderful! Using simple and open Kentucky phrases kept the convo going when the kids and Gigi carouseled the table.  Lastly, I continued the striped gold foil paper from Party City and the wedding sign for the "married couple" to keep things consistent.
Strawberry Delight anyone? Those straws totally complimented the look of the bright and colorful derby style reception turned backyard derby party! Throw in a close enough Derby Pie and you've got a simple party!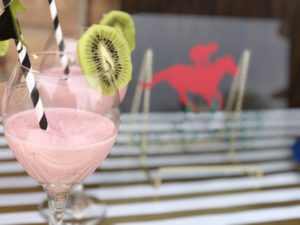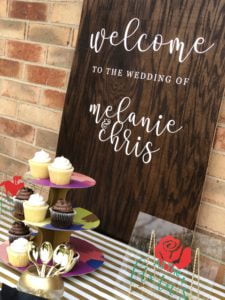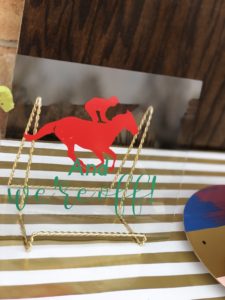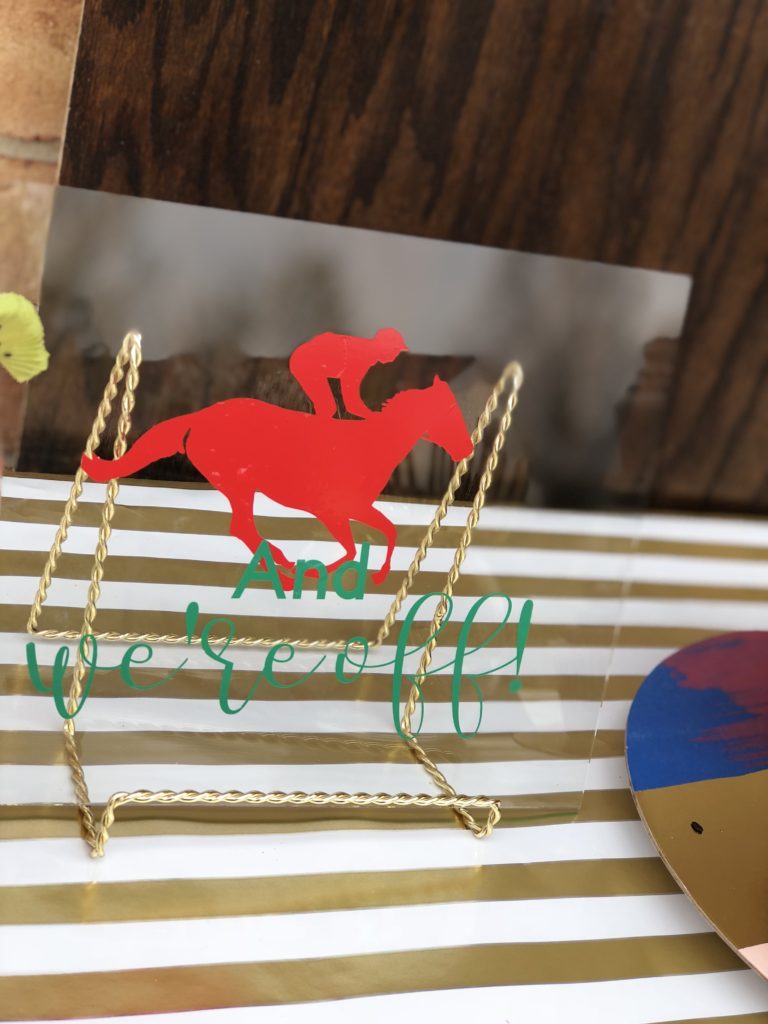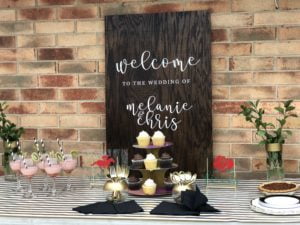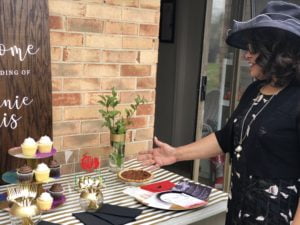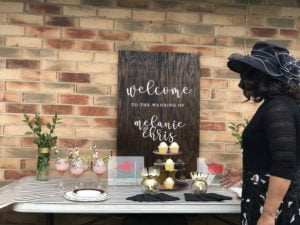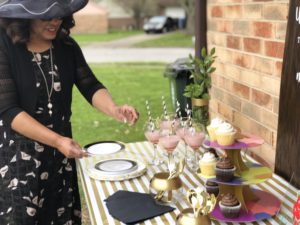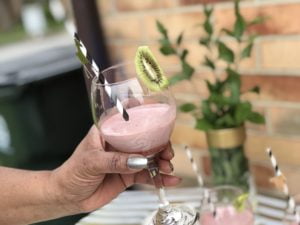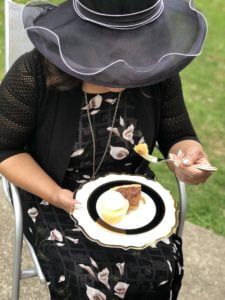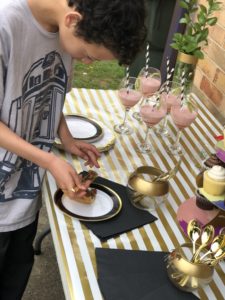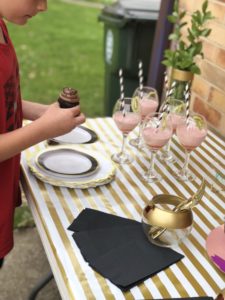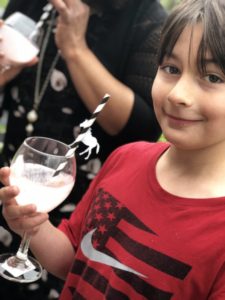 Curating and cherishing memories is what I live for! Maybe this inspired you to do something simple or not so simple for a themed Derby Day event? Either way, this was fun for me!
Looking for those themed printables or cricut cutouts I used? You can purchase the digital downloads for your own soiree!
---
#Fin #DerbyYall #SouthernCharm #Bling #Kentucky #MoreThanGraphics
OCTANE is an 12 year old, Black and Woman-Owned digital marketing & branding firm based in the heart of Kentucky.
We've helped brand and launch over 100 local businesses across America; ⅔ in Kentucky.
Over 60% of our clients are women or BIPOC owned businesses.