Oh say, can you SIP!?
Freedom will have a new ring this summer as COVID-19 restrictions are lifted and many family and friends move into a new comfortability as they gather for BBQs and dinners.
Try this fun boozy margarita as part of Octane's Sips & Celebrations.
Break out the Blender for this fun, tri-layered margarita that has it's own little potent margarita flavor in each layer. This recipe yields two drinks at a time
Ingredients
Tequila (The better the quality the better the taste. We suggest Don Julio of 1800)
Watermelon Vodka (Amsterdam is our go to)
Blue Curacao (You will find this neart he schnapps section)
Lime Juice (Fresh is best, always…gone squeeze out about 4-5 limes)
SImple Syrup (DIY instructions below)
Strawberries (I've learned get the slightly darker red strawberries, they are sweeter)
Crushed Ice
Equipment
High Power Blender
Freezer
2 Mason Jars
Garnishes (optional)
Amazon.com: ALINK American Flag Red Blue White Paper Straws, 100 Biodegradable Straws for Memorial Day /4th of July, Super Bowl, Patriotic Party, Americana Themed Party Celebration and Holiday: Kitchen & Dining

Strawberries
Bomb Pops
Crystal Sugars or granulated sugar
Step 1: Make Your Simple Syrup
Simple Syrup is made of one cup of water : one cup of sugar. You boil this on the stove until the sugar dissolves. Then you turn it off and allow it to cool. You can place it in a jar or bottle for later use once it's completely cooled.
Step 2: Sugar or Salt the Rim
Use regular granulated sugar, or if you want to get really fancy order colored sugar crystals from Amazon like these: Amazon.com : CK Products Red Coarse Sugar Crystals – 16 oz : Grocery & Gourmet Food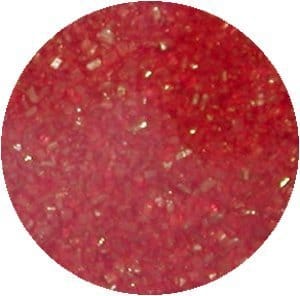 We about to sugar or salt if you like that salty margarita taste, the rims!!!
To get the sugar crystals to truly stick to your mason jar top, you are going to gently roll the mouth of the jar in a thin layer of corn syrup then pour your sugar crystals on a plate and roll the mouth of the jar slowly in the sugar crystals.
Don't have corn syrup? The lime juice will work too, but it won't be as sticky. If you use this option put jar in freezer immediately after sugar or salting your rim for it to set. Also you will have a nice frosty glass that always looks cool.
Step 3: Blue Bottom Layer
Mix 1 oz of Blue Curacao, 2 oz of tequila, 1 oz of triple sec, one ounce of lime juice in a blender with ice. Blend until it is smooth. Once you have it at the right consistency, pour it in your two mason jars and put it in the freezer to chill as you make the next layer.
Step 4. White Middle Layer
Rinse your blender to avoid cross color contamination. Then mix in 2 ounces of tequila, 1 ounce of lime juice, 1 ounce of simple syrup and 1 ounce of triple sec. Blend until smooth consistency. Remove glasses from the refrigerator.
HOW TO LAYER TIP: Go SLOW and tilt the glass. To create a layer you want to ever so slightly tilt your mason jar and pour uber slow to create a distinct division of the layers. Pouring it right on top will create a heavy clunk to the middle of the bottom layer, so you will pour slowly against the side of the mason jar nad watch as it oozes over the bottom layer. Once the pour is evenly divided between the two glasses, slowly raise mason jar and gently return the to the freezer.

Step 5: Red Top Layer
For the red layer, you will pour 2 oz of tequila, strawberries, lime juice, ½ oz of grenadine and ice in the blender and blend to a smooth consistency. Take the mason jars out of the freezer and follow the How to Layer Tip.
Return this layer ito the freezer to let it set as you gather your garnishes.
Step 6 Garnish
Now to decorate it. You can get creative with fun straws you've ordered.
Cut your strawberries with teh tops off and a vertical slit halfway down the middle and set it on the side of the jar OR cut a few strawberries and put them on a toothpick that you can set across the jar.
Stick a bomb pop in the top of this slushy drink to make it easy and extra yummy!
This recipe was inspired by the Thrillist, but our master blender at Octane created a boozy Margarita version vs a Daiquiri. For the original recipe click here: Fourth of July Drinks: Firecracker Popsicle Shot Cocktail – Thrillist

Tips:
Do NOT overblend your drink. If it looks like water you've overblended, meaning you've broken down the ice too much and it's no longer a slushy. You want the consistency icy and thick. You shouldn't see ice bits, but it shouldn't be watery. Just blend until you hear a whisper that says "That's enough" you should know what a slushy should look like.
DO prep your glasses before hand. Chill them in the freezer before you even start. 30-45 minutes should suffice.
Do serve right away. Don't let these sit around and melt. THis is a showman recipe. You will wow your guest with these drinks, but do it quickly.
Use chilled ingredients. Warm – or even room temp – ingredients will melt your ice quicker, and you'll need to add more ice to get that nice, thick, slushy consistency. This will dilute the flavor. So chill your other ingredients (strawberries, alcohol, etc) when possible.
Adjust to suit your taste. Try as you go to adjust the taste to your liking. You may want more alcohol, less lime juice, etc., but taste each layer before you pour it in your cups to make sure you get a good lip pop and headshake from your biggest critic…you.
You can adjust the quantity. This recipe serves two but you can multiply the ingredient amounts to serve a bigger batch. Just make sure you have your cups pre-prepped and ready and don't skip steps so each slushy is a good consistency.
Use crushed ice. Use crushed or cracked ice instead of whole cubes to make it easier on your blender. This is especially useful if you have an older, less powerful blender
All right…drink up! Tell us how it turned out and how you liked Octane's Boozy 4th Margarita.
This post contains affiliate links.  We stand by these products we share because we either used them for a period of time before we partnered with them to advertise or we just truly believe in the product because of what's done for us, our influencer community and for the good of the world.