The art of Halloween is a personal favorite pastime and just in time for the yearly decor we created not 1, not 2 but 3 tablescapes worthy of the holiday.
Grab your pumpkin, your wand or your vacuum and allow us to illuminate the possibilities! (<— see what we did there?)
Tablescape 1: Midnight Sun
Yep, we went there. This tablescape is completely inspired by our teenage childhood of the Twilight Saga but more importantly the recent novel, Midnight Sun by Stephanie Meyers.
Let's break down the details behind it.
The ancient greek folklore of the pomegranate was what inpsired this death to 20's themed dinner party with a #healthyathome concept in mind.
We love the choice of font from the detailed scripts to the modern sans serif fonts to balance the whimsical with the new.
Pops of non rotten fruit mixed with rotten fruits was meant to allude to the bigger Twilight 'lion and the lamb' iconic reference. Are we nerding out yet?
Lastly a matching place card or food table tent was the perfect matching accessory to this class ode to a dark and moody tablescape.
Purchase the suite from our Etsy store!
Tablescape 2: Monster Mash
We're not afraid of bold colors. So why not pastels? The classic gang is all here: frankie, drac, wolfie and gilly (lovingly known as gillman) show up in all the cutest ways for kids to celebrate Halloween.
We saw a cute fun activity from Pinterest where each guest adds to a blank pumpkin: ear, nose, eyes, & mouth. We knew that would be the coolest ways for ladies of halloween to party!
Who knew zombie garland could be so cute?! We did both the classic monsters and the zombie hands and it set the tone of spooky fun for rest of the day.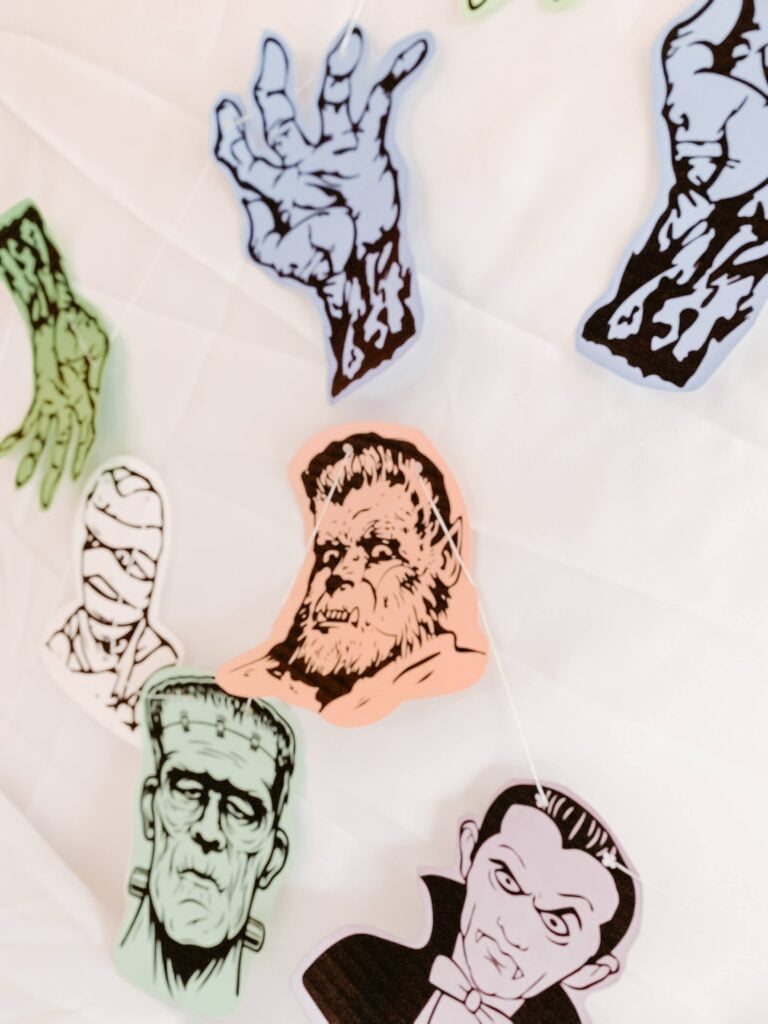 For treat bags we love the idea of party popcorn to finish the party. Monsters love popcorn! Party straws is something of a soft spot for us and knew we wanted bats but pink bats? Heck yes!
These invites are completely customizable online! Change the text, move around or delete the monsters, or make the haunted house as big as you want it. You become the designer!
Purchase all the fun things to #diy your own fun in the Halloween section of our Etsy store!
Tablescape 3: Haunting Faces
Note: This was a personal piece. Only the menu template is for sale from this styled shoot.
How can you make pretty things around horrific subjects? Owner Danielle Meadows-Stinnett wanted to really challenge her ability of styling pretty things with her voice for social injustice. The results are haunting.
Danielle felt challenged to do something inspiring but not dismissive and ended up with this truth-telling tablescape inspired by All Souls Day following Halloween.
The details behind each item on the table are both homages and tribute to Black lives lost to social injustice.
The clear round menus are pretty and are great memorials to those that have lost there life to police brutality in 2020. We specifically chose: Breonna Taylor, George Floyd, Regis Korchinski-Paquet and David McAtee.
The choice of colors are iconic contrast and similarity of the weight of oppression Danielle feels people of color feel everyday. A sea of white…
The stretch of magnolia leaves and figs are in direct reference to the line sang in "Strange Fruit" by Billie Holiday. Our lantern atop a pile of bones are tribute to fallen ancestors that were never reported or acknowledged.
Whats the most haunting for us is the 144 unarmed Black people fallen to police brutality printed on each ribbon skirted and webbed around the entire 6ft table.
What's recently been an anthem for the recent #BlackLivesMatter movement is the iconic statement from George Floyd "I can't breathe" represented with custom candle wrappers.
"See what we see with these 'Haunting Faces' and be challenged to speak up and speak out on the issues that matter both in your community and in the ballot box."

-Danielle Meadows-Stinnett
This post contains affiliate links.  We stand by these products we share because we either used them for a period of time before we partnered with them to advertise or we just truly believe in the product because of what's done for us, our influencer community and for the good of the world.