#MTGThePodcast features PIVOT episode with Karen Swyszcz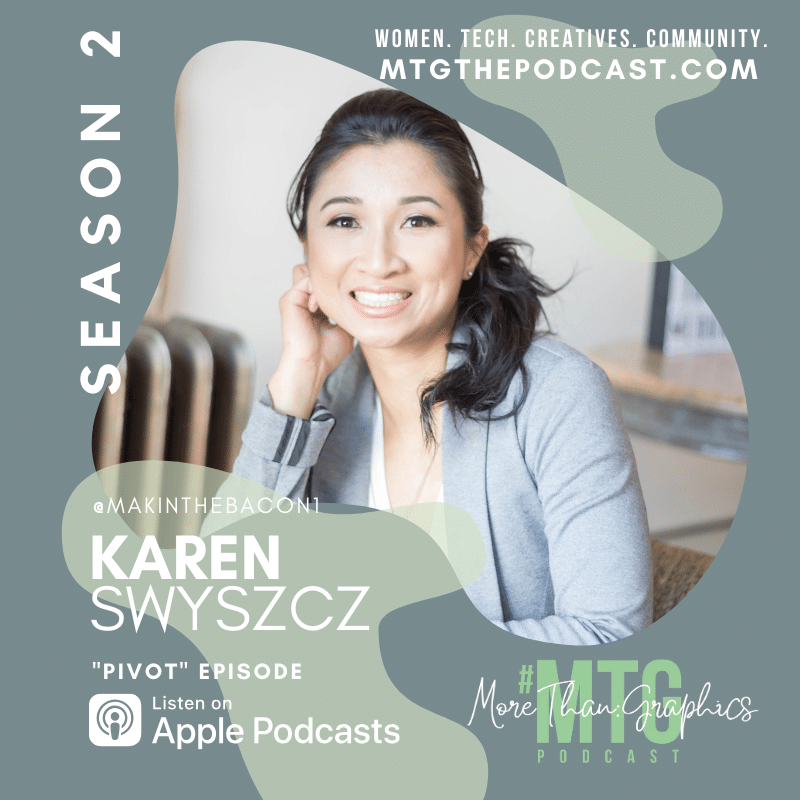 Ready for another dose of awesome sisterhood conversations from women in the tech industry?  With all the things swirling both physically and mentally around COVID-19 (recorded before the current protests) we all could use some inspo on how to PIVOT. Be encouraged and inspired by our special guest Karen Swyszcz, published author, speaker and entrepreneur trailblazer.
Karen Swyszcz graduated from the University of Waterloo with a Bachelor of Science in Biochemistry. She started Makinthebacon as a hobby blog back in 2012, as a way to escape her monotonous day job. Over the years, it has evolved into a platform, initially providing content on personal finance, to now providing inspiration for entrepreneurs/aspiring entrepreneurs through blog posts and interviews. She has partnered with brands such as Camp Tech, Minted.co, Meridian Credit Union and Supperworks on digital campaigns.
In 2019 she co-authored the Best-Selling Book in Women's Health on Amazon – Fitness To Freedom and launched a business and technology podcast – The Bacon Bits 'n' Bytes Podcast. Karen has co-authored another book called Lighting The North, which will be launching this Fall 2020.
Karen is the co-founder of Kaibigan Connection – an organization that is dedicated to connecting Filipinx entrepreneurs and professionals in the GTA and beyond. When she is not working on her many endeavors, she can be found at the gym teaching group fitness classes – BodyPump and BodyAttack. 
---
Show Notes We Loved:
"Things have a weird way of working themselves out." – Karen
"Timing is everything." – Karen
"Spending all this time salvaging. I need a complete shutdown and revisit." – Karen
"Sometimes things take longer." – Karen
"Knowing where your energy and passion is going." – Karen
"Having something you like verses something you love." – Cicely
"Pivoting is not a straight line." – Karen
"How can I create options?" -Karen
OCTANE is an 12 year old, Black and Woman-Owned digital marketing & branding firm based in the heart of Kentucky.
We've helped brand and launch over 100 local businesses across America; ⅔ in Kentucky.
Over 60% of our clients are women or BIPOC owned businesses.