#MTGthePodcast hosts March's 'Movement' Episode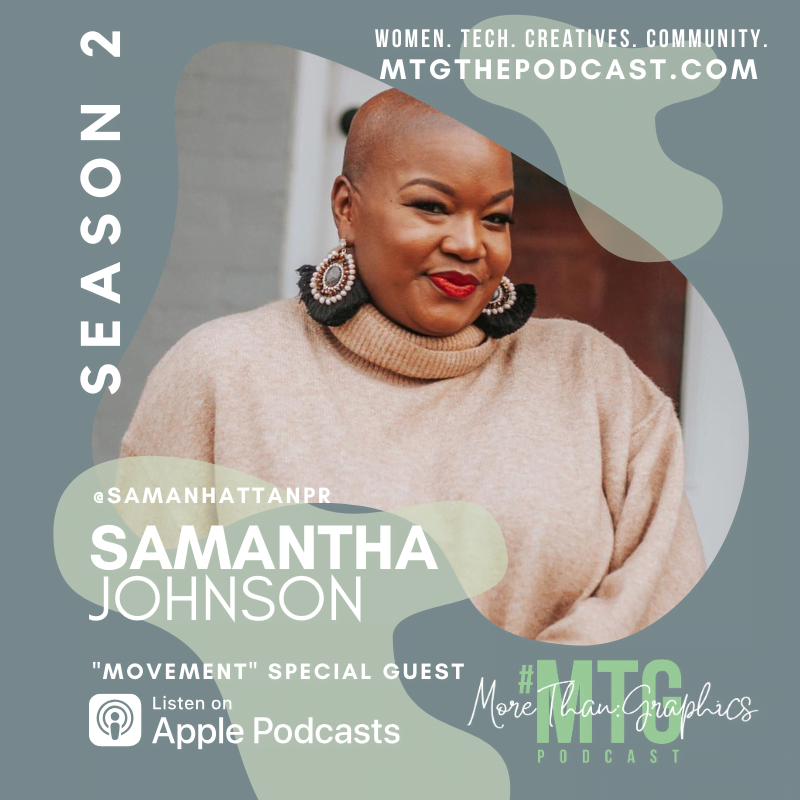 FEATURING SPECIAL GUEST SAMANTHA JOHNSON
For both #WomensHistoryMonth & #InternationalWomensDay we HAVE to celebrate it with an all femme episode!
This month is themed MOVEMENT and we just so happen to have the perfect guest to discuss this with, Samantha Johnson of Samanhattanpr!
Samantha Johnson is the Chief Cheerleader of SaManhattan Media and a native of Versailles, KY. She attended Woodford County High School and the University of Louisville where she eventually took an internship with Walt Disney World in Orlando, FL. Following her career with Disney, Samantha worked in advertising and marketing for Coca-Cola, Cumulus Broadcasting, and took on a host of freelance positions in the experiential sector from Airbnb Open in Paris, France to working with Black Women-Owned consultancy, Verb. Over the past two years she has worked on activations for the 2019 roll out of Netflix Original Series (OITNB) Orange Is The New Black, 2018 Nappily Ever After movie, 2019 Essence Festival in collaboration with Netflix, and more. Samantha has made a commitment to not only reaching back, but working in and with the local Lexington community.
Given her last full-time position as Director of Communication and Events for the North Limestone Community Development Corporation, Samantha jump started her entrepreneurial career by turning her employer in to her first client. Locally known as the girl who directs The Night Market or even, "The Plug," Samantha launched her own business in 2018. This two year old company that began as a social media and marketing consultancy has quickly turned in to a collective of partnerships incorporating Black and women-owned businesses.
Everyday I ask myself, "What's the best that could happen?" – Samantha
"God can do anything, you know—far more than you could ever imagine or guess or request in your wildest dreams! He does it not by pushing us around but by working within us, his Spirit deeply and gently within us." – Eph. 3:20
---
Show Notes:
"I wasn't ready but I just jumped and took it." – Samantha
"Every time you take a breath, take a step." – Samantha
"Everything always works out." – Samantha
"WTBTCH was birthed from my first solo international trip." -Samantha
"There's so much growth in being self aware."- Samantha
"Everybody is doing social media. It's not enough." – Samantha
"We couldn't have the life we have without being a mom too." – Cicely
"Growing up my business." – Samantha
"It's greater later." – Samantha
"You just have to put yourself out there." – Samantha
TOOLS:
OCTANE is an 12 year old, Black and Woman-Owned digital marketing & branding firm based in the heart of Kentucky.
We've helped brand and launch over 100 local businesses across America; ⅔ in Kentucky.
Over 60% of our clients are women or BIPOC owned businesses.