Achievement unlocked! ? October is a big deal for us as it hallmarks our 10th year in business. We're ready to celebrate! Each week on the blog we're sharing top projects that have mused us from the inside out.
---
Project Recap
In 2017 & 2018 Octane won the bid to design and produce the city of Lexington's annual Unity Breakfast honoring Dr. Martin Luther King Jr. and even produced by Alpha Phi Alpha Fraternity Inc.
We loved the deeper core values that this project taught us about fellowship, community and allowing unity to happen organically in inspiration of the life of Dr. Martin Luther King Jr.
Concept Branding
Each year the event committee of Alpha Phi Alpha Fraternity determines a theme and the entire production design is based up on that.
Octane hired a team of professionals to handle day of AV production and the Day of social media while all graphics were designed in house.
In 2018 Octane collaborated with SamanhattanPR & Unsung Hero Media in creating an impromptu photoshoot at Phoenix Park in downtown Lexington that was used as the initial event design of the 2018 Unity Breakfast.
Print Items
Items included: event logo, social media graphics, table numbers, event program, tickets and bookmark.
Social Media
Social media headers and graphics were created to release the theme and promote the day of event.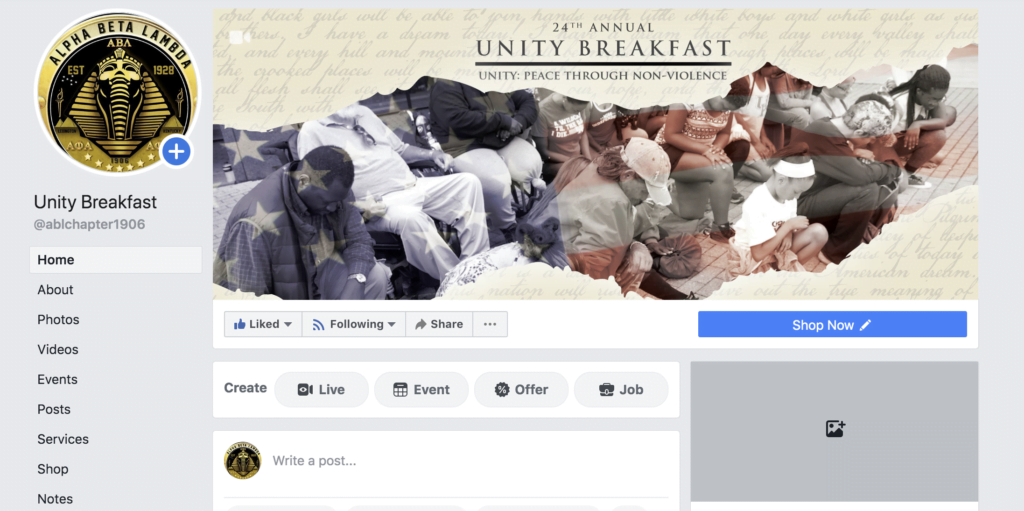 Audio Visuals
The biggest element you could see was the giant two screens used to share words to spirituals, introduce each speaker, showcase pre-recorded interview segments with award recipients.
We were also required to provide finished DVD copies of the production in its entirety.