Octane is built on authentic communities and founded on acts of selfless service. Mothers of May is a month long celebration of moms from all aspects of life. By hosting a space for 'each one teach one' women share their own unique perspectives and lessons of motherhood.
---
As I was listening to "Life Changes" by Thomas Rhett, I was thinking about how relevant it was to my life. When Shawn and I got married we had this idea about how life would go. Well we all know life never goes the way we plan……
Over 8 years ago I began my journey in motherhood without even realizing it.
At the time we were traveling to Aruba and Las Vegas and here and there having a good time as husband and wife. One day (I can't even remember how we found out about this) we decided to travel ten hours to Wilmington, NC. There was a promotion for a free stay and dinner if you booked an appointment to see a residential development they were building. We thought why not?!! It's free and who knows maybe we will buy a house there! If you're not familiar with Wilmington it's a beautiful historic town built on the Cape Fear River and next door to Wrightsville Beach. Well we absolutely fell in love with this little town and when we returned home we decided to sell our first home and move to the beach!!!
Well like I said before, life changes! Not two weeks after we sold our home and was packing up, I found out I was pregnant. Keep in mind that we were moving on a whim. That meant we were quitting our jobs and just moving! Obviously I couldn't just quit my job being pregnant; we needed to keep our insurance. Besides the fact that my mom would kill me if I moved far away with her grandchild! We made the responsible decision to stay and look for a home here. We ended up moving two houses down from our old house. Our neighbors must have thought we were nuts!!! They were kind of right.
We were bummed about not living by the beach but we were excited about this new adventure!! We were thrilled when Audrey was born and loved her more than the beach (that's right; I said it!).
It was about two weeks in when the realities of parenthood hit us hard. She had colic, and I'm not talking that one hour a night of crying. If she was awake, she was crying. She took three 30 minute naps a day. You can do the math. She cried ALL the time. She also went through a 6 week period when she woke every hour on the hour throughout the night. We were utterly exhausted. I obviously still loved her, but I needed a break!! We both did!!
Luckily she eventually grew out of her colic and is the BEST kid now! She's so responsible, so sweet and compassionate. But, we decided NO MORE kids!!! We just couldn't do the "baby thing" again.
The picture above is the vacation we took in 2017. We took Audrey to swim with the dolphins, took a sunset dolphin cruise and had the best time!!! It was the first vacation we had been on that we could actually relax because she was older and more self sufficient. It was AMAZING!!! I remember watching families with young children thinking "Shew, I'm glad we're done with that stage!" Little did I know, I was pregnant with Brooklyn at the time. Talk about life changing!!! I had no idea what we were about to be hit with when we got home.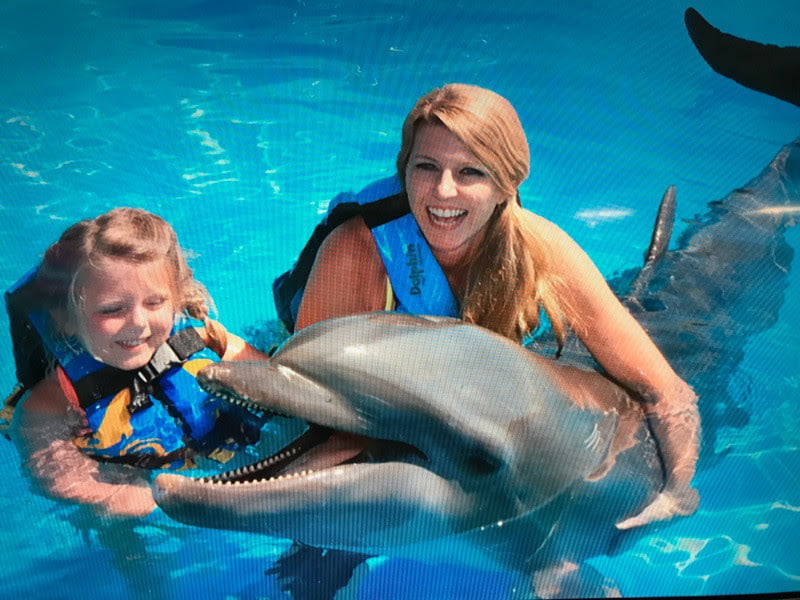 It wasn't until three days after we got back that I found out. I was going on Audrey's school field trip as a chaperone to the orchard but that morning I woke up SO sick!! I could barely get dressed and I had to monitor 24 kids that day!
I pulled myself together and made it there (barely). A friend of mine was there chaperoning another class. She said, "You look awful. Are you ok?" I told her how sick I was. She said, "Are you pregnant?!" Umm no! Don't be ridiculous!!! I'm almost 40 years old! No way, no how!! The whole day she kept asking me if I was ok and trying to persuade me to take a pregnancy test. I think I finally agreed when I dry heaved on one of the kids!
TRUE STORY! Later that afternoon she bought a test for me and dropped it off. It was like a scene from a bad 80's movie…taking a pregnancy test and keeping it under wraps.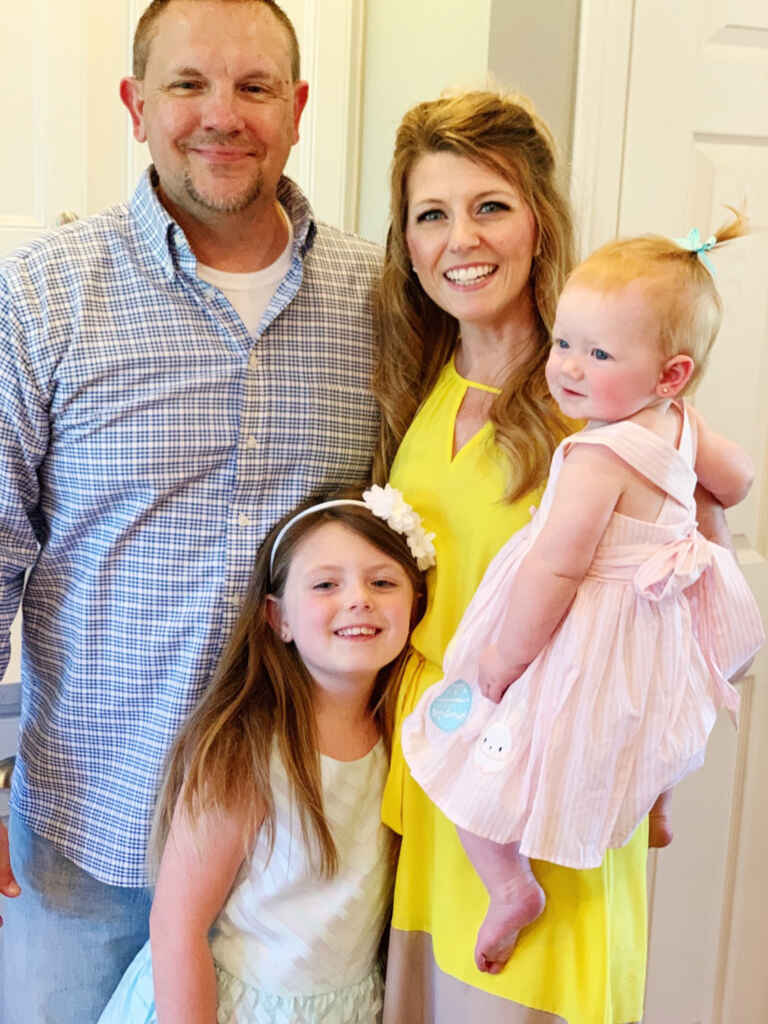 Our lives changed forever that afternoon. The lines on that test couldn't have been clearer. I remember texting Shawn a picture of the test at work. Yeah I know. I could've been much more eloquent about it, but I was in total shock!! He called me and said, "Soooo….how do you feel?" I said, "I feel better now that I've had some crackers and ginger ale." He said, "No I mean…how do you FEEL??" Well I was scared and shocked, but I knew God had a plan and I had to trust that. My whole pregnancy I was a nervous wreck. I thought, "There is no way I can do this again! I'm completely starting over and I'm almost 40 years old!! What am I going to do?!" We had even given away EVERYTHING! We had to buy all new baby stuff. We were literally starting from scratch.
Now we have two beautiful little girls (7 years apart) and wouldn't trade it for the world!!! Side note: Brooklyn was such an easy baby compared to Audrey. We had a lot of people praying she would be much calmer and it definitely worked!!
Now we're not living our dream of spending days by the ocean but we're living a dream we didn't know we wanted until we had it!!!
I couldn't imagine my life without my two girls and my husband. Days are hard sometimes, but it's all worth having those big smiles in my small little world. Life definitely changes, but sometimes those changes are bigger than us and exactly what we need!!!
---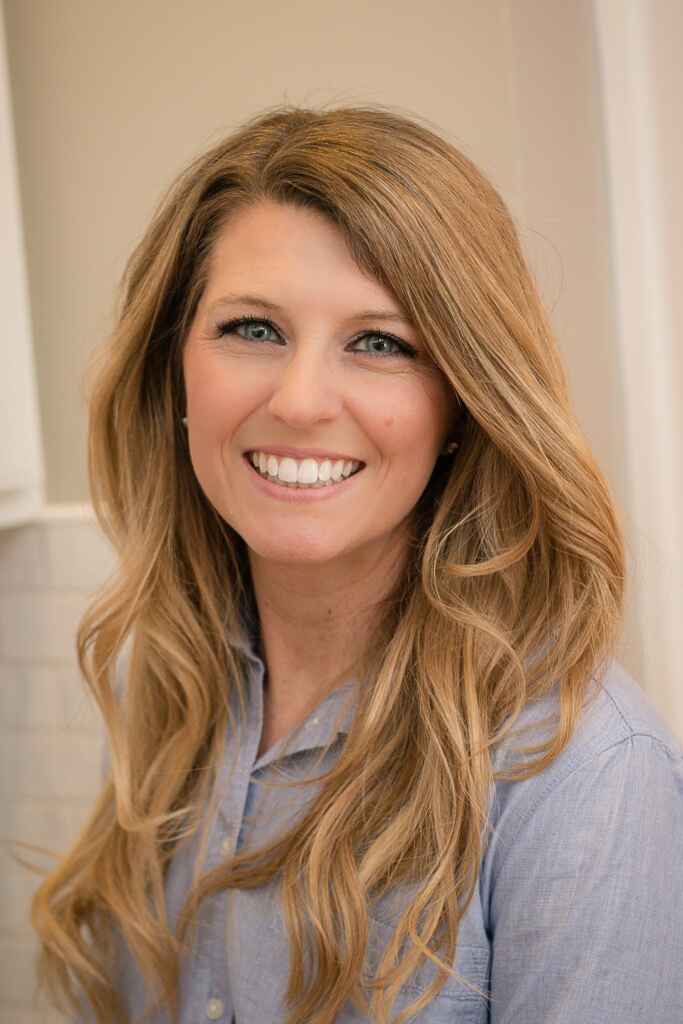 Hi!! I'm Celeste, a KY blogger, wife and mom of two girls who are 11 months and 7 years. That's right! I'm starting over in the baby world.
I am about creating balance between self and family. My passions are my family of course, fashion and food.
I have been a stay-at-home mom for 7 years with my two girls. I am both in the school age world and the baby world.
I love to share what I have learned on this journey called motherhood! I don't consider myself an expert by any means, but I love talking about my experiences over the past 7 years as a mom!!
Moms need other moms to support each other and that's why I love what I'm doing!!